If there's one trend you need on your radar this summer, it's the seventies aesthetic. 70s-inspired style is having a major moment right now, spanning everything from bright and boho fashion pieces to rattan interior finds and – you guessed it – hair looks.  
Introducing 2021's hottest hair trend: curtain bangs. Face framing curtain bangs are a simple, commitment-free way to switch up your look without resorting to a drastic cut. Best of all, a chic 70s curtain fringe is something that you can do yourself at home. While it's having a 2021 moment, this is a timeless look rather than a passing trend. Read on to discover all you need to know… 
WHAT ARE

FACE FRAMING CURTAIN BANGS

?
Unlike a traditional fringe that gives your forehead full coverage, curtain bangs are often styled in a centre parting and frame the face on both sides – hence the name. The bangs can vary in length, but are typically cut shorter on the inside and become gradually longer on the outside for a face-framing, waterfall effect.  
THE PROS AND CONS OF A 

70S CURTAIN FRINGE
PROS 

 
It's an easy, commitment-free way to switch up your hair 

 

Unlike blunter, shorter fringes that can sometimes have a harsh look, thanks to their softer, shaggier texture 

face framing curtain bangs 

flatter most face shapes 

 

This versatile fringe can be styled in a number of ways and is the perfect way to add interest to an updo, as well as looking great when hair is worn loose

 

Thanks to their lengthier style, curtain bangs can be easily hidden or pinned back if you're not keen on your new look. They're also quicker to grow out than traditional fringes

 

There's endless style inspiration – you'll find plenty of 

fringe hairstyles for long hair

, short hair and everything in between online. We recommend showing these to your hairdresser and discussing the best option for your specific hair type and texture 

 
CONS
This look requires daily styling maintenance, so if you're more of a 'wash and go' type or prefer extra time in bed each morning it might be worth reconsidering 

 

Regular upkeep is needed, so if you're not confident trimming your 

70s curtain fringe

 yourself at home be prepared for frequent trips to the salon

 
DO CURTAIN BANGS SUIT EVERYONE?
So… do curtain bangs suit everyone? Spend some time trawling the internet for hair inspo and you'll quickly discover that it's not only celebrities with perfectly symmetrical face shapes that are rocking the trend. Thanks to their versatility and flattering appeal, curtain fringes are all over TikTok, Instagram and Pinterest. 
Originally made popular by seventies hair icon and Charlie's Angel Farrah Fawcett, fringe hairstyles for long hair have evolved over the years and are now a staple style among celebrities including JLo, Rihanna, Phoebe Dynevor and Matilda Djerf to name but a few.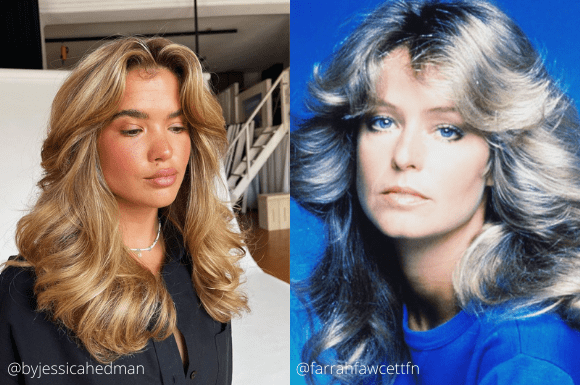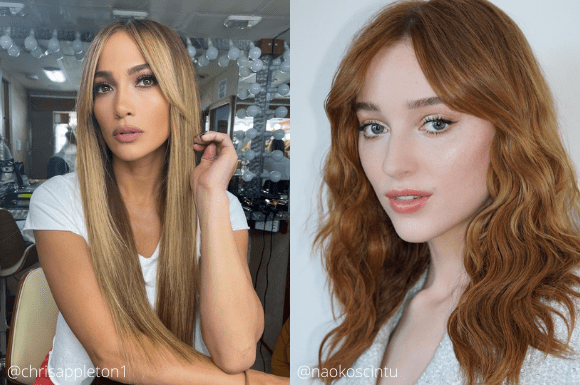 HOW TO CUT A 

70s curtain fringe

 AT HOME
Ready to try face framing curtain bangs? Here are the dos and don'ts when it comes to cutting them yourself… 
Steer clear of basic household scissors – it's worth investing in a decent pair made specifically for hair

 

Section your damp hair into two diagonal forward sections going towards your temples. You can choose how thick you'd like your curtain bangs to be, but as a general rule start at a point that's an inch or more back from your hairline and pull the section forward 

 

Once sectioned and positioned over your face, cut the inside of the two pieces to around chin length, making them gradually longer on the outside towards your collar bone. While snipping, point scissors in an upwards motion to create a softer, more blended line. Curtain bangs should blend almost seamlessly with the rest of your hair. A hairstylist can do this effortlessly, but you'll need to pay close attention to your face shape and existing style if attempting this at home

 

Start longer, as fringes have a tendency to bounce upwards and appear shorter when dry. You can always trim your bangs more if needed

 

Head over to YouTube where you'll find numerous step-by-step hairdresser tutorials

 
STEP-BY-STEP GUIDE TO 

styling curtain bangs
Now you've got 2021's most sought-after hairstyle, it's time to master styling the look. When it comes to styling curtain bangs, there are a few rules to stick to if you want to achieve that perfect swish. You'll need a hairdryer, a round barrel brush and optional rollers. 
STEP 1:
A 70s fringe is all about volume. Start by applying our Volume Root Stimulating Primer, using the nozzle to apply the product directly to your scalp before washing your hair. Massage in, then leave for ten minutes and enjoy the cooling sensation. Rinse thoroughly before cleansing with our  Volume Bodifying Shampoo and Conditioner Duo.
STEP 2:
Face framing curtain bangs require regular heat styling. Once your hair has been towel-dried, apply a few drops of our Repair Heat Protection Leave-in Oil throughout the mid-lengths and ends of your fringe, taking care to avoid the root area, to shield your tresses from heat damage. 
STEP 3:
Rough dry your hair until it's 80% dry, then section off your bangs. Use a round brush to blow dry your fringe in an upwards, backwards motion, keeping the hairdryer nozzle turned away from your face and maintaining tension to boost volume. Continue to turn the brush constantly.
STEP 4:
Hold the brush in place until it cools, then release.
STEP 5:
Now that your fringe has plenty of volume, use your round brush and hairdryer to style them in an outwards motion from each side of your face, adjusting with your fingers as needed to ensure it blends with the rest of your hair. For added oomph, you can put a couple of large heated or velcro rollers into your fringe, being sure to wind hair away from your face.