Discover at-home hair tips for hair conditioning, hair breakage and hair blow-drying.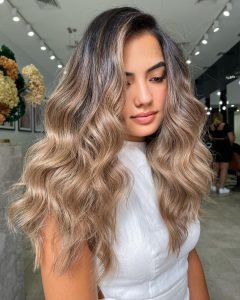 @elliemareehair
Here at Grow Gorgeous, we know salon trips have been hard to come by this year, and we all love that just-out-the-hairdressers hair feeling.
That's why here at GG we are discussing the all-important conditioner, and offering hair tips for blow-drying hair. Read below to get the at-home look of a professional hair stylist.
How can I condition my hair at home?
For optimum hair health, a conditioner is simply a must-have in your haircare routine. There are many concerns that it can cause hair to be greasy and heavy. However, research suggests that not only does it make hair soft and more manageable, but it also protects against damage to the hair shaft.
With many types of conditioners out there, it can become overwhelming trying to find the perfect one for your hair type and hair needs. When choosing the perfect conditioner, simply look at what your hair is currently craving.
The Post-shampoo Hydrator
Shampooing replenishes hair by removing dirt and dead skin cells from scalps. It is recommended by stylists to use sulphate free shampoos, to reduce stripping hair of natural oils. Conditioners are the next step in your routine to achieve moisture –charged hydration, and we recommend leaving it on for 2 minutes.
For thin hair craving a lightweight conditioner: pH-Balanced Conditioner is fortified with shea butter, which is found to increase shine and reduce frizz.
For dry locks craving hyperhydration: Intense Thickening Conditioner harnesses the power of Hyaluronic Acid, a magnet for moisture to deliver smoother strands.