Wake up a hot mess? We can confirm that bedhead is a real thing and happens to the best of us. However, as much as we appreciate a good night's sleep, waking to knots, tangles, and frizz on repeat isn't exactly the best start to the day. What's more, without knowing how to protect the hair while sleeping, you may be getting yourself into more than just a bad hair day. Your sleeping habits can actually lead to hair breakage and other damage.
Keep reading for our guide with all you know about how to protect your hair while sleeping.
What is the best way to wear hair to bed to prevent breakage?
Wearing it down can cause tangles, while a tight pony can cause damage- so what is the best way to wear your hair to bed to prevent breakage?
Firstly, make sure its dry. You may have been told as a child to never sleep with wet hair unless you want to wake up to a head cold. Unsurprisingly, there is no scientific evidence behind this. However, you still should avoid sleeping with wet hair as our hair is at its weakest when wet, so you are making it even more susceptible to damage and breakage as you toss and turn!
Next, make sure to comb it through. Run a wide tooth comb from the roots to the tips for several minutes. Each stroke will help you to disperse your scalp's natural oils throughout your strands.
Once the hair is fully dry, the best way to wear your hair to bed to prevent breakage is simple and better yet, it also styles your strands! Twist the hair around itself into a loose top knot at the top of your head with a fabric scrunchie to hold everything in place. When you unravel everything in the morning, you will have either held beautiful waves into place or created them, no tools necessary!
If you want to wake up to slick, straight hair, then sit tight as we will discuss the secret that is, using satin hair wraps for sleeping.
Should you sleep with hair tied up or down
Considering how seriously haircare is now taken, it's surprising how many still sleep with their delicate strands scraped back into a ponytail, held together with an elastic band. An elastic band will rub against the strands and put stress on your hair and scalp as it pulls your hair back. Plus, it will often require you to conceal a visible dent when it comes to the AM, taking up valuable time in your morning regime!
So at this point, you may be wondering whether you should sleep with your hair tied up or down?
If you choose to wear your hair up, try the hairstyle we discussed. The key is to allow your scalp to breathe and relax- don't pull your hair so tightly against your head! You could also try loose braids at the nape of your neck.
To put it simply, you should sleep with hair tied up rather than down, just keep it loose and breezy.
Leaving a hair product in overnight to protect hair
The ends of your hair usually take the brunt of the damage that occurs as you toss and turn. Even if you sleep still on your back, you can end up breaking the ends of your hair as you lie on them.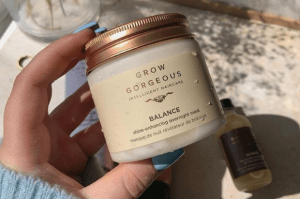 Leaving a hair product on overnight is a simple way how to hydrate, nourish, and protect your hair while sleeping. For example, this Balance Shine-Enhancing Overnight Mask combines skincare ingredients such as oat lipids and hyaluronic acid to nourish the scalp and roots while the advanced haircare ingredients work to nourish, condition, and soften strands.