WHAT ARE THE BEST INGREDIENTS FOR HAIR?
We get it – haircare can be confusing. Between endless product options, complex claims and overwhelming jargon, meeting your perfect match isn't always easy. So, what's the secret? Arming yourself with knowledge about the best ingredients for hair (and the ones to avoid!), so you can choose formulas clinically proven to get the best out of your crowning glory. That's where we come in.  
Read on to discover the ingredients you need on your radar and their benefits for different hair types.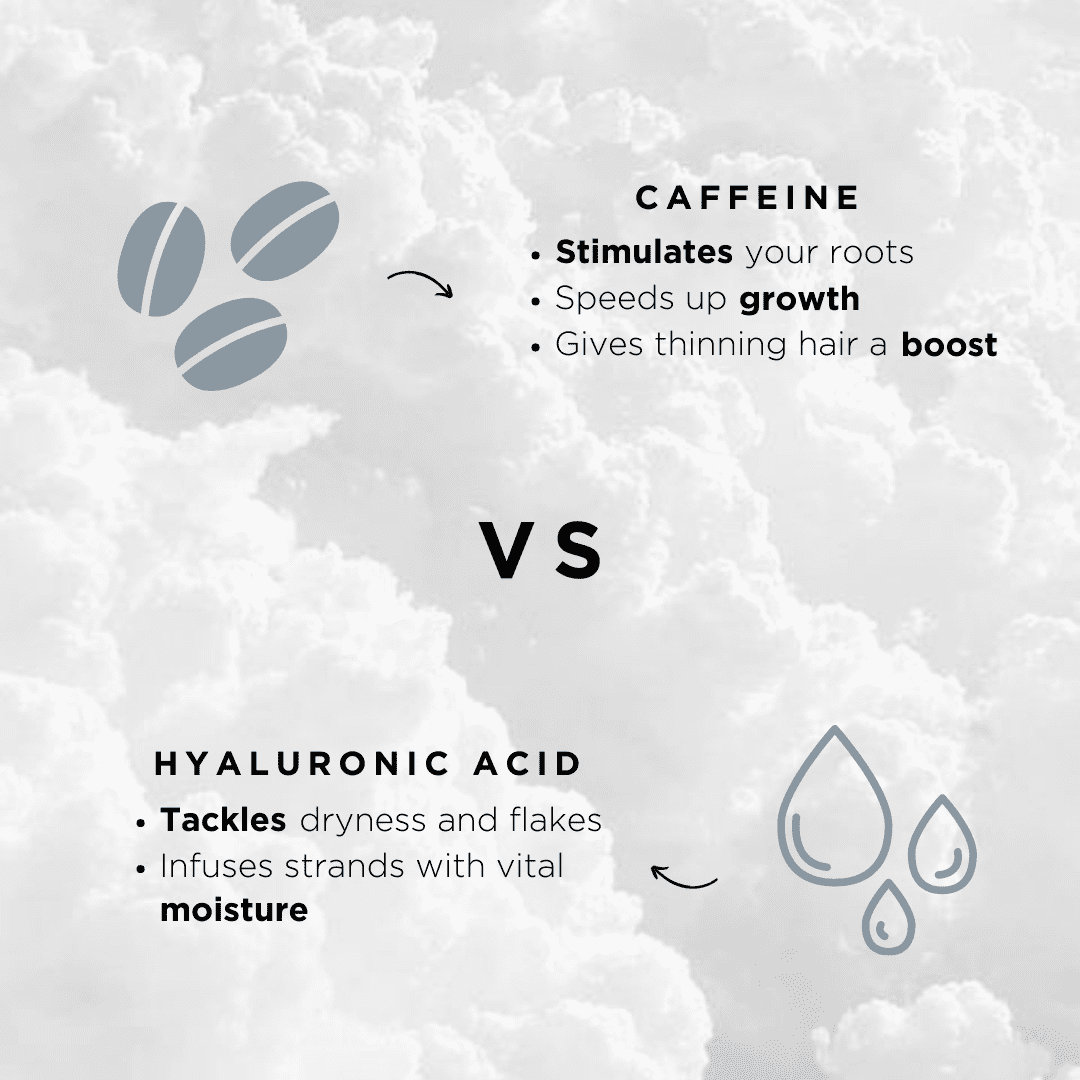 CAFFEINE HAIR 

BENEFITS 

 
Wondering what ingredients make your hair grow longer? Caffeine is the main ingredient you need to look out for if your priority is stimulating your roots, speeding up growth or giving thinning hair a boost. Just as a morning coffee can bring us to life, caffeine has the power to energise follicles, resulting in increased density and growth.  
So, is it as easy as simply drinking more cups of coffee each day? Not quite – but there are simple speedy solutions. When it comes to hair growth, caffeine is best applied topically. When hair products are massaged directly into the scalp blood circulation is improved, making it easier for your roots to absorb essential nutrients and minerals.  
D

ihydrotestosterone (DHT) is a testosterone-derived hormone that prevents vitamins, proteins and minerals being properly absorbed by hair follicles

 

DHT can lead to hair loss

 

Caffeine combats

 DHT, causing cells to produce more ATP – a form of energy that encourages growth – helping you achieve a fuller, healthier-looking hair swish



We've got your caffeine cravings covered, as this powerhouse ingredient is present in all of our haircare ranges excluding the Sensitive collection. If you start with just one caffeine-enriched GG product, make it our Hair Growth Serum Intense. The small but mighty hero is formulated with a highly concentrated dose of caffeine, proven to increase strand thickness by up to 13% in as little as 4 weeks (based on an independent user trial and instrumental testing).