Most of us have heard of niacinamide. In fact, in this day and age, you'd be hard-pressed to find a beauty brand that doesn't feature this skin-saving hero in a cleanser or moisturiser.
While you'd be forgiven for wondering what the notoriously tricky-to-pronounce ingredient has to offer when it comes to your hair, we can confirm it's a gamechanger that you need on your haircare radar. Read on to discover more about the benefits of niacinamide and why you should be incorporating it into your haircare routine.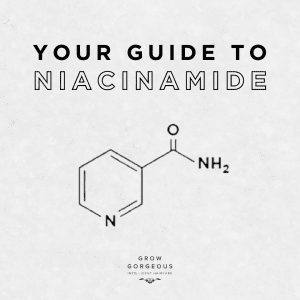 HANG ON… WHAT IS NIACINAMIDE?
So, what is niacinamide? Put simply, it's a form of Vitamin B-3 – an essential nutrient found naturally in foods such as eggs, green veggies, beans, fish and milk. The body utilises Vitamin B-3 for a number of different functions, and a deficiency can be detrimental to your overall health. Topical niacinamide is clinically proven to offer a whole host of benefits from promoting hydration to improving skin texture. We know, it sounds incredible – but what's that got to do with your hair?
We'll let you in on a secret – gorgeous hair starts with good scalp care. As experts in hair health, we can testify that skincare shouldn't stop at your scalp and that the hallmark of a great haircare routine is caring for your crowning glory from its very foundations – the roots. That's why our products are expertly formulated with handpicked wonder ingredients that are beneficial to your hair and scalp – including niacinamide.
Still not sure what all the fuss is about? Don't worry – we've pulled together 5 key benefits of niacinamide just for you. This way, the next time you're indulging in a night of self-care and encounter this powerhouse ingredient you'll no longer have to wonder 'what is niacinamide?'…
PROMOTE GROWTH – NIACINAMIDE FOR HAIR GROWTH
Niacinamide is clinically proven to boost your circulation. When we said we recommend niacinamide for hair growth, we weren't joking! It starts at your scalp, stimulating blood flow to bring more oxygen and nutrients to the hair follicles and gets your hair in the growing groove.
You could be well on your way to luscious locks just by trying out our Intense Range. Not only does the range include a niacinamide shampoo, conditioner and hair and scalp mask, but it also features our bestselling growth serum. Much like your morning coffee, these caffeine-rich, powerhouse products are packed full of the best ingredients to kick-start your day and to give your roots a boost!