Isn't it wonderful when you discover that your daily habits are actually good for you? A perfect example of this? Coffee! Well, caffeine to be precise. That morning cup of coffee is something many of us depend upon to function normally and some days definitely require a double-shot of espresso to help us face the day. Well, caffeine can actually have the same effect on our hair. We spill the beans on caffeine and hair growth, answering the question: is caffeine good for your hair?
Caffeine: hair saviour or enemy?
Caffeine can benefit hair health in several ways from limiting damage to strands to supporting hair with all the necessary nutrients and vitamins it needs to grow long and strong. So to answer your question: yes, caffeine is good for your hair (yay!).
But why is caffeine good for your hair?
The main benefit of caffeine is that it can help promote hair growth straight from the root in the initial phases of hair growth. It does this through targeting a hormone called 'DHT', which causes hair loss. DHT can prevent vitamins, proteins and minerals from helping hair follicles to grow. Caffeine combats this by causing hair cells to produce more 'ATP', which is a form of energy that encourages hair to grow, helping you achieve dreamy Rapunzel-esque tresses.
Still not convinced? Further research by Dr. Tobias Fischer has even shown that caffeine speeds up the hair growth cycle and increases the length of hair from 33-40%*. So specifically targeting the hair follicle with caffeine hair products will set you off on your hair growth journey in no time!
Caffeine is known to help increase blood circulation to the scalp which promotes healthy hair follicles. When you're massaging hair products directly to the scalp you're aiding blood circulation to the scalp and stimulating the roots. Stimulated hair follicles will grow faster, healthier and stronger thanks to getting all the right nutrients and minerals from your body through the improved blood supply into the scalp.
But I've Heard Caffeine Can Cause Hair Loss?
So caffeine is fab in reasonable quantities, but you don't want to go overboard! You CAN have too much of a good thing. Consuming too much caffeine can actually negatively affect your hair growth cycle by slowing it down. As well as this, overconsuming vitamins and antioxidants could cause health problems further down the line. So remember girls, EVERYTHING in moderation (yes, everything).
Which is better: drinking or applying caffeine topically?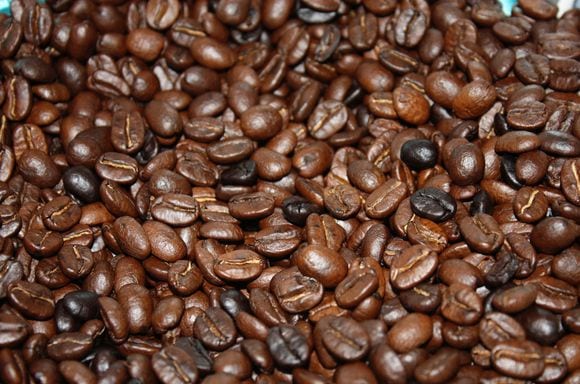 I know we want coffee, but we don't NEED copious amounts of it. Unfortunately, constantly consuming coffee will not give you luscious long, healthy hair in record timing (unfair, I know). Too much caffeine can cause various problems. But don't worry, this is only if it is overconsumed, you can still drink your morning coffee, but for best hair results we recommend applying caffeine hair products topically.
Adding Caffeine to Your Haircare Routine
Most of us need a morning coffee to bring us to life, so why neglect your hair? Here at GG, we've got your caffeine cravings covered, with an arsenal of products that will wake up your hair, leaving tresses feeling bouncy and voluminous, as well as boosting hair density.
Begin by washing and conditioning hair with our caffeine-enriched Intense Thickening Shampoo. Formulated with an innovative form of hyaluronic acid blended with amino acids and biotin that helps stimulate hair follicles to give a fuller appearance and improve hair density.
Intense Thickening Hair and Scalp Mask 
Next lock in moisture by generously coating the hair and scalp with our new Intense Thickening Hair and Scalp Mask. This deeply moisturising treatment hydrates hair and scalp with hyaluronic acid, biotin and coconut oil. The addition of caffeine breathes life into lacklustre locks, giving hair the boost it needs to feel thicker, fuller and volumised.
Finish your caffeine haircare routine with the Hair Growth Serum Intense. Formulated to help you achieve visibly fuller, thicker and healthier hair in as little as 4 weeks. The addition of an extra 3% concentration of caffeine, hair-boosting zinc, a unique glucose compound and glycine works to increase the thickness of each hair strand by 13%.