You may be familiar with the fact that the haircare world is getting slightly, well, complex. Curly-haired girls are proudly claiming the pattern their strands fall under, from the loose wave of 3A to a tight 4C coil. Meanwhile, those with dead straight 1A strands are establishing whether their hair has a high or low porosity. Haircare is quite clearly rapidly evolving. Therefore, it can be expected that we all know the difference between fine vs thin hair by now, don't we? Two words that according to the dictionary, can be used interchangeably, many of us have lived our lives presuming that fine vs thin hair is essentially the same thing. We're here to tell you otherwise. They are, in fact, two very different hair types.
It's time to take it back to basics. Here's all you need to know about fine vs thin hair.
What is fine hair?
So to begin, what is fine hair? It's often used to describe a head of hair that has a thin number of strands, but this is incorrect. What fine hair refers to is the actual width of each individual hair follicle on your head.
Therefore, with fine hair, you can still have plenty of strands on your head. However, when this hair is made up of strands that have narrow and small hair follicles, the result is hair that looks and feels limp and lacking in volume. The size of the hair follicle is all down to genetics. If your parents have fine hair, it's likely you have it too.
What is thin hair?
What fine hair is has been clarified. So, what is thin hair?
Unlike fine hair, what thin hair is refers to the number of total hair strands on your scalp. In other words, the actual amount of hair you have. You may notice that you have thin hair all of a sudden, from visible gaps in your scalp to a lighter-looking ponytail.
Thin vs thinning hair
Thinning hair is the actual process of the amount of hair on your scalp decreasing. It's usually linked to the very natural process of aging. However, as we age, our hair strands can start to shrink in diameter too, at which point fine vs thin hair becomes fine and thin hair.
It's normal to part with about 50-100 hairs throughout the day. However, if you notice some significant shedding with sparser areas appearing on your scalp, there may be a few external causes of your hair thinning.
It is not just aging that can cause the hair to thin. It can be caused by depriving your hair of the love and care it deserves. Are you scraping it back into a tight, uncomfortable ponytail or using heated tools every day? Plus, using products filled with sulphates can be incredibly harsh and harmful to your hair's strands. Always look for products that are free from parabens, sulphates, and silicones.
Best

 products for fine hair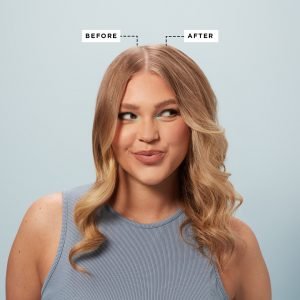 While some of the best products for thin hair can actively support its growth, the fineness of your strands is your genetic hair type. Therefore, the best products for fine hair are those which help it to look as voluminous and as bouncy as possible.
Luckily, there are some GG products that can do just this!
Firstly, we would recommend shampooing and conditioning with our Volume Duo.