Everyday stress affects us all. It's a natural and sometimes unavoidable part of life, prompted by work worries, relationship woes and other personal issues. But what happens when a global pandemic takes stress levels to the extreme – and what might this mean for your hair?
It's natural that such unprecedented times may cause feelings of unease, panic and anxiety. 2020 highlighted the importance of going back to basics: appreciating the little things, being there for one another and taking time to nurture your own wellbeing. Pause for a moment to breathe deeply, take things slow and remember that we're all in this together.
Worried about the impact stress might have on your crowning glory? Read on to discover how to equip your strands with the resilience they need to weather any storm.
CAN 
HAIR LOSS BE CAUSED BY STRESS?
The short answer is yes. Although relatively uncommon, hair loss does not discriminate and extreme stress can cause varying degrees of fall and thinning. If the pandemic has prompted your strands to experience stress-related shedding, you are not alone. But what is the reason behind it?
WHY DOES
STRESS CAUSE
HAIR LOSS?
Stress affects adrenaline levels 

 

Stress can impact diet and nutrition

Stress affects your immune system

 
One of the main reasons stress is linked to hair loss is its ability to increase the body's production of adrenaline. This adrenaline is then converted into cholesterol, which is capable of raising the body's level of testosterone. Testosterone is a male hormone that impacts hair growth. For women, raised levels of testosterone can affect their hair growth cycle, which causes thinning hair and hair loss.  
When people are stressed they tend not to look after themselves properly, skipping meals or snacking on non-nutritious food instead of choosing fresh, healthy options. Diet has a massive impact on hair health: iron deficiency, lack of protein and low-calorie meals can all contribute to unwanted hair thinning or loss.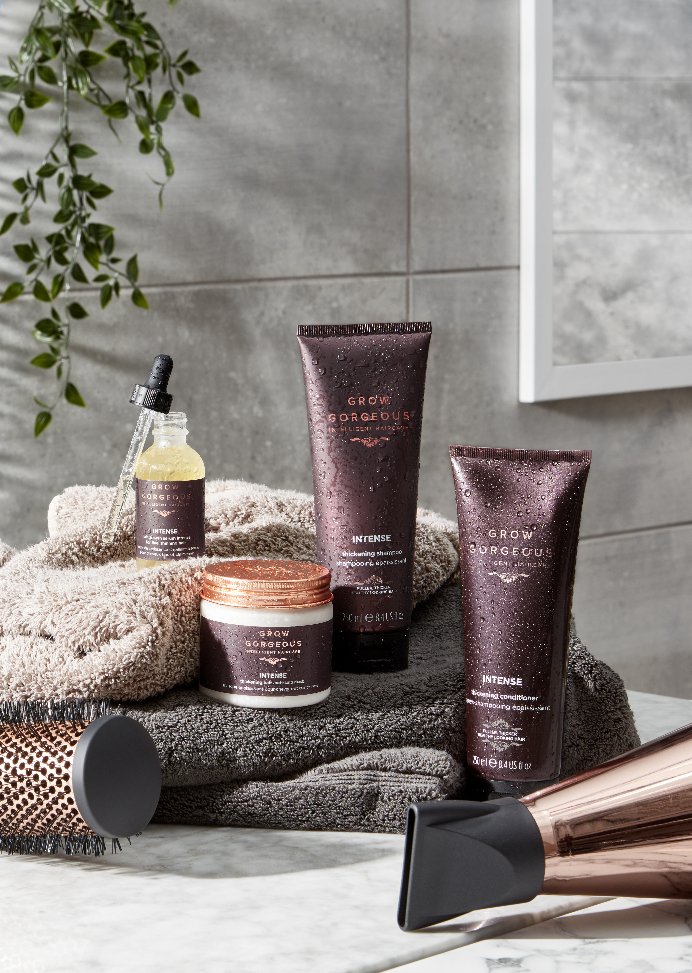 WILL YOU SEE IMMEDIATE HAIR LOSS FROM STRESS?
Stress doesn't cause instant hair loss. Due to the hair growth cycle, it usually begins between 6-12 weeks later. Stress can affect the immune system, making you more susceptible to illness. It's often suggested that illnesses such as flu, high temperatures and stomach upsets can trigger hair loss up to 3 months later. Sudden and unexpected hair loss can be a sign of an underlying medical condition. It's always worth speaking to a medical professional about any hair loss-related concerns you may have. 
HOW LONG DOES IT TAKE FOR HAIR TO GROW BACK AFTER STRESS?
The total hair loss and regrowth cycle lasts around 6 months. It takes 3 months for signs of thinning to show, and 3 months for strands to return to their former density.  
HOW DO I GET MY HAIR TO GO GROW BACK FASTER AND THICKER?
Firstly, it's important to try and manage stress levels and work on ways to reduce them. Taking time for self-care, looking after yourself when you're busy with regular exercise, relaxation and eating well can nurture physical and mental health. 
Here are some other ways you can practice self-care:  
Practice daily meditation or m

indfulness:

Headspace and Calm are great apps

Do yoga

or p

ilates

 

 

Go for a walk

 

Get creative

 

Make a gratitude journal

Cognitive behavioural therapy

 

Spend

 

ti

me 

o

ut

doors

Plan meals

 
GROW GORGEOUS HAIR GROWTH SOLUTIONS
HAIR GROWTH SERUM INTENSE
Our bestselling Hair Growth Serum Intense has been scientifically developed to help those with thinning hair concerns. Supercharged with root-stimulating ingredients such as caffeine, organic pea sprout extract and Chinese Skullcap, the small but mighty elixir boosts strand density by up to 13% in as little as 4 weeks (based on an independent user trial). Hair Growth Serum Intense contains the same expert technology of the Hair Growth Serum Original, plus an extra 3% concentration of caffeine to really wake up hair follicles. Start your hair growth journey and empower your hair to reach its full potential with just a few drops.