Stress. It affects all of us. Whether it's your work life or personal life, often that dreaded stress is unavoidable. Some of the side effects of stress are obvious; from trouble sleeping to anxiety. But can stress cause hair loss? From why it happens, to how long it takes your hair to grow back, we're here to answer your stress-related hair questions.
Can stress cause hair loss?
The answer unfortunately is yes, stress can cause hair loss in some people, mainly due to the below reasons:
Stress affects adrenaline levels
Stress can impact your diet & nutrition
Stress affects your immune system
So let's get into it. Why can stress cause hair loss?
One of the main reasons stress is linked to hair loss is that it can increase your body's production of adrenaline. (Bear with us here, this next bit can sound a little confusing but it's important in understanding your body's reaction to stress) This adrenaline can then be converted in cholesterol, which is capable of raising your body's level of testosterone. Testosterone is a male hormone that impacts hair growth. In women a raised level of testosterone can affect the hair growth cycle, therefore causing thinning hair and hair loss.
Something else to consider is that when we're stressed we tend not to look after ourselves properly. We may skip meals or snack on nutrition-lacking foods instead of finding the time to cook fresh, healthy meals. Your diet will have a massive impact on your hair health meaning that often with improper nutrition comes hair thinning or hair loss. Things like iron deficiency, a lack of protein, and meals with too few calories can cause this unwanted hair loss. For more tips on what foods to eat to boost your hair health and growth click here.
Stress can also affect your immune system, making us susceptible to illness. Just like your diet affects your hair health, so does your physical and mental well-being. It's often thought that illnesses such as flu, high temperatures and systemic upsets can trigger hair loss up to 3 months later.
Will you see immediate hair loss from stress?
Stress won't cause instant hair loss. It usually begins between 6-12 weeks later due to the hair growth cycle. 
Sudden and unexpected hair loss can signal an underlying medical condition. If you do have any concerns please do contact a medical professional who can advise you best on this.
How long does it take for hair to grow back after stress?
The total hair loss and re-growth cycle often lasts around 6 months. 3 months for the signs of thinning due to stress to show and 3 months for the hair to start growing back and returning to normal thickness.
How do I get my hair to go grow back faster and thicker?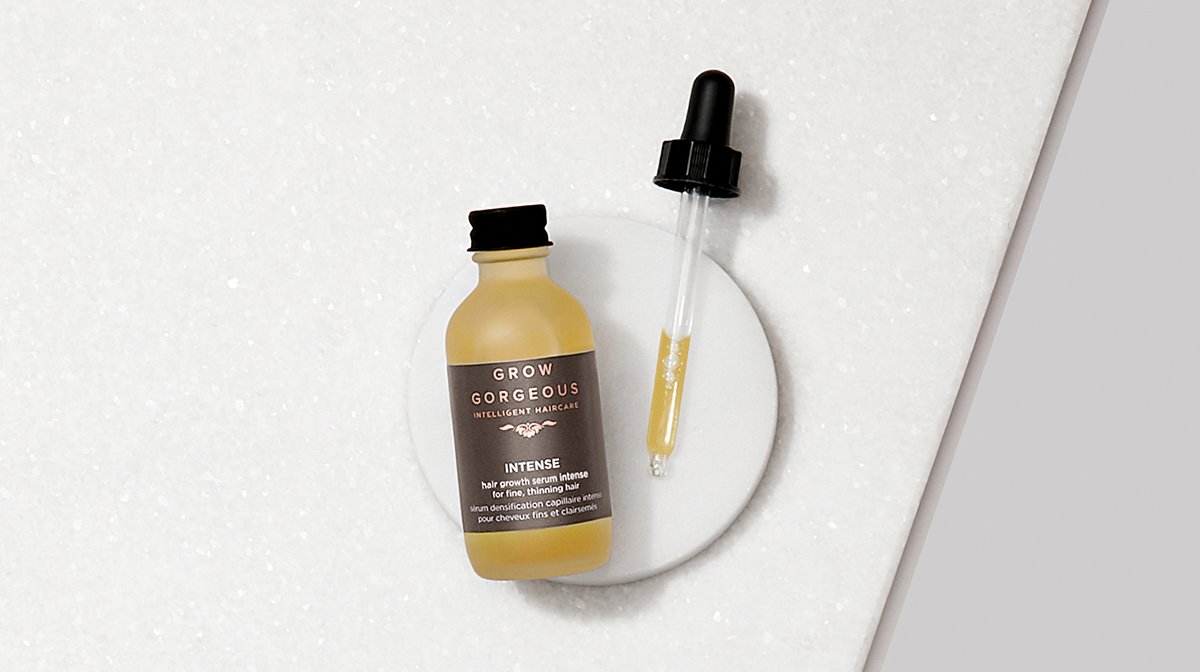 To help those of you who do have thinning hair concerns, we developed our Hair Growth Serum Intense, infused with Hyaluronic Acid to moisturise your scalp. It also contains Bio-Active Pea Sprout Complex and Bio-Active Complex of Chinese Skullcap, Soy Sprout and Wheat Sprout, helping to activate and improve hair density. The Intense Serum contains all the same technology of our original Hair Growth Serum plus a 3% concentration of caffeine to really wake up the hair follicles plus a glucoside compound which actively increases hair density.
If you're looking for an extra boost, you can also try our Intense Thickening Hair and Scalp Mask  which gives thinning hair the volumising boost it needs. Designed to give the deep nourishing treatment hair needs without weighing it down, coconut oil and hyaluronic acid in the mask intensely moisturise the scalp. Hair gets an added boost from the caffeine in the mask which promotes natural hair growth and thickening by revitalising hair follicles. This product can be used as part of a hair-loving regime to get your dream thick, luscious locks with our Hair Density range.