The most sparkly time of year is approaching. The glitz, the glamour, the lights- that's right, the festive season is on its way! And here at GG, we have our priorities in order. Turkey and gifts aside, there's a lot of socialising to be done. This means planning our Christmas party outfits and of course, the festive hairstyles to go with them. We know that the run-up to Christmas can leave you feeling a little overwhelmed and flustered. So, we wanted to help in the area where we know best and take a little pressure off your shoulders.
Here are 3 festive hairstyles to turn heads at your Christmas outings!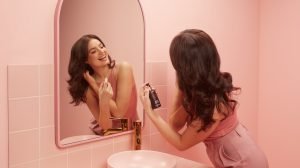 Hollywood Curls
As classic as it is glamourous, the Hollywood curls hairstyle goes hand in hand with gold sequins or a staple red dress. In turn, this makes it the one of go-to Christmas party hairstyles. Hollywood waves are like the diamond necklace of hairstyles, they can add an air of sophistication and indulgence to any kind of look. What's more, they're easier to achieve than you may think. Before you begin, prep the hair with some Repair Heat Protection Leave-In Oil to protect hair from heat damage of up to 195°C. Work one or two drops through the lengths of the hair. This oil also has cuticle smoothing technology to help increase that 'Hollywood curls' shine.
How to do this festive hairstyle
Step one: The key to this Christmas party hairstyle is to part your hair to one side, tucking the other behind your ear. This parting is synonymous with the Hollywood Glam aesthetic.
Step two: Divide your hair into sections. If you're running low on time, thicken the sections to cover more hair at once for a looser curl.
Step three: Using your curling wand of choice, start at the top of the hair and wrap it around the base of the tong towards the tip, in the direction of your face. Lift the tong at the roots for an extra bounce of volume.
Step four: Wait about ten seconds. Release the hair and repeat these steps with each section of the hair.
Step five: As you reach the hair that frames the face, wrap it around the tong starting at the eyebrow point. Once all the hair is wrapped around, point the tong downwards at an angle so the curls fall perfectly around the shape of the face.
Step six: As a final step, spray some of the Grow Gorgeous Intense Thickening Spray at the roots for that final boost of volume and brush everything out.
Just like that, you have the perfect Hollywood curls.
Shop This Look: