Modern-day life, time spent in the sun, living in a city and heat styling all impact the strength of our strands.
Did you know environmental factors can cause pollution particles to easily build up on hair fibres, decreasing shine? And as temperatures rise for summer harmful UV rays can also take their toll on your hair health. Hands up if you're guilty of heat styling everyday or going in the sun protecting your skin but not your hair? We definitely have been in the past! UV doesn't just burn your skin if it's not protected but breaks down the bonds of protein in your hair causing harmful damage leading to dullness and dryness.
NEW Defence 3-in-1 Spray
Thankfully, we've got the answers to all of these problems though: GG Defence 3-in-1 Leave-In Spray! Expertly formulated to futureproof your hair against everyday damage of past and present.
So if you haven't added a heat, UV and pollution protector to your hair regime, we really recommend you start now! What does this must-have multitasker do and what makes it such a game-changer? Read on to discover!
It protects your hair from pollution
It's time to stand up to the invisible ager invading your hair. Among its pollution-fighting agents is Polysaccharide Matrix that repels airborne nasties such as carbon in car fumes and heavy metals that are emitted from coal-burning.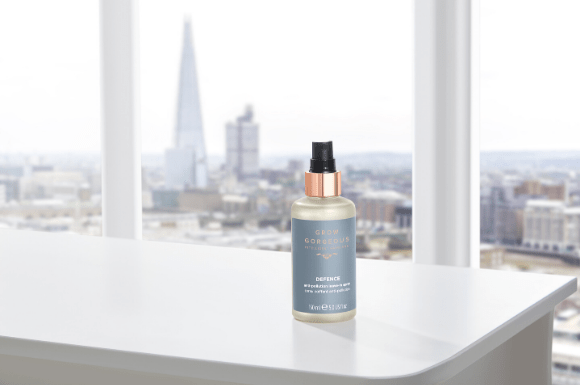 How does it work its magic? Robin Parker, Technical Director for British Beauty Experts Acheson & Acheson explains:
"The Anti-Pollution Leave-In Spray forms an invisible shield from pollution particles with its Polysaccharide Matrix to prevent pollution particles gathering on hair strands.
"The Antioxidants within the formulation provide an added defence against any particles that remain on the hair," he adds.
This acts as a physical barrier, shielding strands from these damaging external stressors. So when you wash your hair, you essentially remove the particle matter by washing it away. Genius.
It protects your hair from UV
There's no point blocking entry to pesky pollution then letting UV rays (responsible for damaging free radicals) step in to do their work. Why do you need to protect hair from UV? You wouldn't sit on a sun lounger without protecting your skin first, so why do we do it to our hair?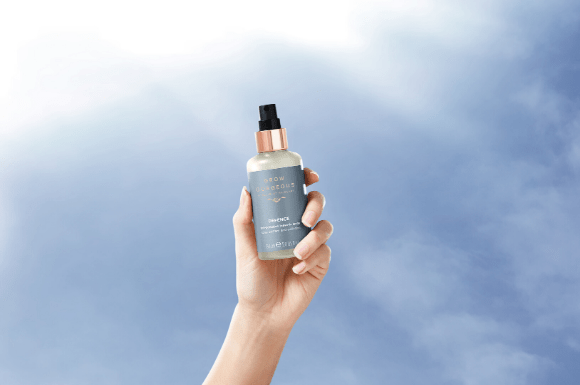 Robin explained: "UV Light is another source of potential damage and has a detrimental effect on hair colour. The expert formula contains UV filters which help to block out the potential damage to pigments."
Plus, it's oil-free so won't leave your hair greasy. It's the holy grail of smart summer haircare, safeguarding your strands, keeping them glossy, radiant and shiny.
It protects your hair from heat – and nourishes too!
It's getting hot in here! If you regularly blowdry, or use straighteners and curlers, the likely chances are your hair has probably reached breaking point. Spritz over our hydrating, fast-absorbing spray to protect from UV and pollution but also heat damage (against temperatures of 195 degrees).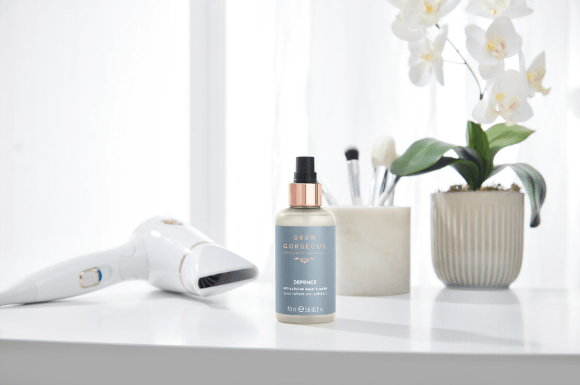 Top Tip: When blow-drying, opt for a cooler temperature and don't use the nozzle too close to strands.
It's super lightweight and non-greasy
This super lightweight, fine spray is infused with a unique blend of key Intelligent Haircare ingredients to really benefit your hair and scalp. Here's what you need to know: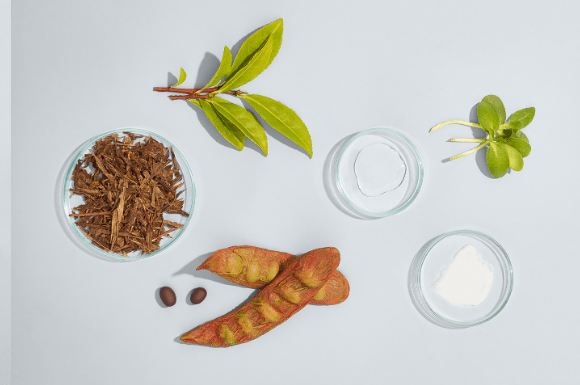 Green Tea Extract: with antioxidant properties works to stimulates the scalp and restore natural gloss.
Polysaccharide Matrix:  we touched on this earlier, but it helps to protect hair with a physical shield acting as a barrier against atmospheric pollution by repelling particle matter. This means when you wash your hair, pollutants are easily washed away by removing these particles and limiting damage induced by pollution leaving hair with a glossy shine.​
Tara Tannins and Organic Sunflower Sprout Extract: a powerful fusion of a natural antioxidant complex with nourishing essential fatty acids to help protect against the harmful effects of urban pollution for shiny and healthy-looking hair​
Amino Acids: Vital component of keratin, provide thirsty strands with the moisture they desperately crave, helping promote healthy-looking hair​.
Panthenol: Moisturises and improves hair manageability.
How to Use:
After removing excess sebum, dirt and product build-up with the Defence Detoxifying Shampoo and Conditioner, spray this summer saviour onto towel-dried hair before blow-drying or using other heat stylers.  Comb through and style as usual for best results to reveal protected sleek and uber-healthy hair. It pairs well with the Detoxifying Scalp Scrub: To prep and remove product build-up, the Detoxifying Shampoo to cleanse and purify strands and our Detoxifying Conditioner for an extra hit of hydration.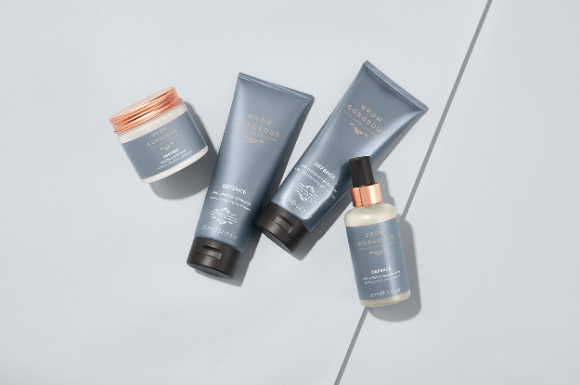 Top Tip: This product helps to detangle, making styling easier. Simply spritz from roots to ends and comb through with a wide-tooth comb.
Proven Results:
We put our new Defence 3-in-1 Spray through strict clinical trials on 120 women with all hair types for 2 weeks who were exposed to urban environment and pollution. The results are in:
97% agree texture was non-greasy and lightweight.
93% agree hair looked sleek.
86% agree hair looked radiant.
83% agree hair felt protected from pollution.*
Our instrumental testing
Our haircare expert and writer Meghann Thorp, 28, also recently put it to the test, here's her verdict:
"After spending a lot of time outside over Easter during the heatwave, my hair went really dry and dull, so I was looking for something to restore its former shine, plus prevent it from further damage from being outdoors a lot and my daily blow-drying. I have loved using the GG Defence Spray.
"It's easy to use, doesn't make my hair greasy like some UV protectors do. The results are really impressive – it has definitely made my strands sleek and shiny and I know I'm giving it extra care following the damage caused by not protecting it in the sun. You wouldn't hit the beach without suncream on your skin, now I know the importance of protecting your hair too. Whether you're enjoying a staycation or a tip to the shops in the city, this ticks too many boxes for me not to be a winner."
Pairs well with…