Cleansing conditioners, co-washing and the no-poo trend. The lingo can be a little confusing, but the concept is simple. Read on to discover the GG Guide on how to co-wash.
4 things you need to know about Co-Washing
What co-washing is
Part of the no-poo movement, co-washing is short for 'conditioner washing.' Essentially eliminating shampoo from your hair routine and cleansing your hair with a conditioner or Cleansing Conditioner instead. (We love our Curl Defining Cleansing Conditioner just for this.) It's a one-step process to cleanse and nourish your hair, without using your traditional shampoo and conditioner routine.
The benefits of co-washing
Deep cleansing, conditioning, added volume, lustrous locks, shine and reduced frizz all in one easy step. Our co-wash treatment, the Grow Gorgeous Curl Defining Cleansing Conditioner is sulphate free, richly conditioning and perfectly cleansing without drying hair out or stripping it of natural oils.
The hair types it's perfect for
Although co-washing can benefit all hair types (eliminating fly-aways and controlling frizz) it tends to work best for those with thicker hair, coarser strands or dry locks. It's also amazing for hydrating and nourishing curls. Plus, for those of you who experience drier hair (especially during these colder months) co-washing could be just the thing for you.
Why you should take a break sometimes
Our Curl Defining Cleansing Conditioner is perfect for regular use as it's non-drying, sulphate free and an effective cleanser. However, a lot of women do find that taking a break from their co-washing routine can be a refreshing benefit. Use an exfoliating scalp treatment weekly (we love Defence Detoxifying Scalp Scrub), and once a fortnight follow with a shampoo and conditioner to really cleanse and clarify the scalp.
What makes the Grow Gorgeous Curl Defining Cleansing Conditioner special?
Our Cleansing Conditioner works for every type of hair to thoroughly yet gently cleanse tresses. It doesn't contain any sulphates so while you won't experience that familiar lather when washing your hair, you can rest assured that the Cleansing Conditioner isn't stripping the hair of its natural oils needed for a healthy and balanced scalp.
11 gorgeous benefits in 1 easy step:
Deep cleanses
Deep conditions
Adds volume
Hydrates hair and scalp
Adds lustre
Adds shine
Reduces frizz
Makes hair soft
Offers lasting smoothness
Makes styling easier
Adds protective shield
Gorgeously active ingredients:
Conditioning Complex derived from natural oils coat the hair surface, helping to smooth the cuticles.
Abyssinica Seed adds a protective veil to each strand. Your hair is reinforced and elasticity improved, making it stronger and less prone to snapping and breakage.
Panthenol adds a glossy moisture to hair giving it brilliant shine and brightness.
How to Co-Wash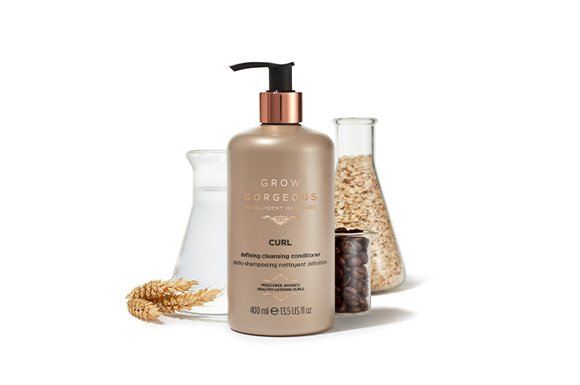 Your partner in co-wash crime, the Grow Gorgeous Curl Defining Cleansing Conditioner isn't any old hybrid 'wash & go' shampoo; though that doesn't mean it's complicated to use.
To use our Grow Gorgeous Curl Defining Cleansing Conditioner you have to merge together your idea of what shampoo and conditioner do for your hair. Start by taking a generous amount of product to wet hair and massage it into your scalp before smoothing through to ends as you would your conditioner. Let this sit on your hair for three minutes and then rinse thoroughly, continuing to massage your hair and scalp.
Next? Dry and style your hair as you normally would but take note of the difference in your hair's softness, added volume and ease in styling.