You might have enjoyed the summer sun, but after months of exposure to UV rays, your hair is probably telling another story. Humidity, heat and styling tools can all play havoc, dehydrating strands and causing frizz.
Unfortunately, hair damage and heat styling also go hand in hand. That familiar hiss of the straighteners, a sleek glossy blow-dry, cascading waves. Heat, we can't resist you. And we shouldn't have to. Discover 6 steps to treat heat damaged hair (without cutting it!)…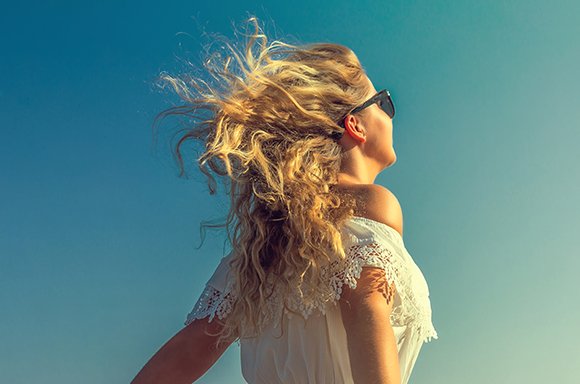 Why heat damages hair
When you head outside, you're concerned about UV rays, but do you protect your hair and scalp like your skin? The answer is probably no! A combo of saltwater and the hot sun can leave hair brittle and lead to breakage which means more frizz! If you combine this with those ultra-high levels of heat you apply to hair during blow-drying, straightening, and curling processes are often hot enough to cause severe trauma to the hair. But why does heat damage hair?
Well, these high temperatures that give the best results when it comes to styling actually result in cracks in the cuticle layer, bubbles in the cortex, frayed strands, split ends, faded colour and increased frizz. With some tools applying levels of heat at 200°C or more, the damage is caused by dehydration, rapid water loss and protein damage to name a few. This thermal damage from styling tools often softens the keratin in hair, as a result adversely affecting the protein structures, leaving your hair dull and dry.
6 steps to treat heat damaged hair without cutting it
If you're concerned with the facts on what heat styling and sun exposure has done to your hair. We've got the 6 ultimate hair hacks to help treat damaged hair, meaning you can get gorgeous, healthier-looking hair.
1. Prevent further damage
The most important step when it comes to repairing damaged hair is to prevent further damage. If you can't avoid heat tools, try keep the frequency of use to a minimum and always use heat protection.
2. Choose nourishing haircare products
Get serious with your haircare. Our Repair Rescue Shampoo and Conditioner duo are exactly what you need to return your hair to its former glory.
They restore and repair from within, getting inside the problem of hair damage and reinforcing strands. Rich in Cupuassu Butter, Amino Acids and Bamboo Extract to repair, protect and strengthen damaged strands. Use the two products together to;
Repair, protect and strengthen hair damaged by bleaching and excessive heat styling.
Reinforce hair fibres, increasing strength and elasticity so hair is resilient to breakage.
Intensely nourish and condition dry, weak strands to leave hair hydrated, smooth and soft.